[5]
Please read the following with your kids to help make it a safer Halloween!
How to Keep Trick-or-Treaters Safe
To stay safe on Halloween, Emergency Services recommends:
Reflective tape or glow stick(s) on costume and treat bag for every child.
When possible, choose a bright or light-colored costume.
Carry a flashlight.
Look both ways before crossing and street or road and use crosswalks when possible. Plan your route to cross roadways the fewest amount of times.
Walk, don't run, and never run across a street or road.
Teach children not to dart out into the road and not to cross between vehicles.
Stay on sidewalks and well-lit walkways when possible.
Wear flame-resistant costumes and stay away from open flames.
Wear well-fitting masks that allow the person to see in all directions - down to see where walking and right/left to safety cross roadways.
Accessories such as knives and swords should be short, soft, and flexible.
Children should wear comfortable, well-fitting shoes to reduce the chance of trips or falls.
Costumes should not reach the ground so they do not cause trips or falls.
Halloween Driving Safety Tips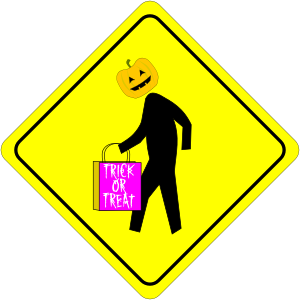 Drivers must be vigilant on Halloween as well. Emergency Services asks as drivers on Halloween night between the hours of 5 and 9 p.m. to:
Slow down and be extra alert, especially in residential areas.
Turn on your head lights early to make your vehicle more visible to children.
Take extra time to watch for children at intersections and make sure all have crossed (even the 'stragglers') before you proceed.
Expect heavy pedestrian traffic and allow extra time for your trip.
Enter and exit driveways slowly, double check for children behind your vehicle.
Tips for Those Handing Out Treats
Even those handing out treats can keep safety in mind. Emergency Services suggests:
Make a clear, well-lit walkway from the sidewalk or street to your home.
Consider healthy treat options or smaller-sized candy.
Sugar-free options are important for diabetic children. Consider special dietary concerns when choosing your treats.
Store-bought, pre-packaged treats are best, many parents do not allow children to eat homemade treats from strangers.
Keep candles back from walkways and standing areas so as not to cause accidental injury.
Remember pets could act unpredictably when faced with strange faces and smells on halloween. Consider keeping pets away from trick-or-treaters and inside during those hours.
Remind children and drivers to stay safe.
Safety Rules
[6]
To keep kids safe during Halloween the Sheriff's Office recommends that you follow these simple rules:
BE AWARE of sex offenders in your area, go to www.FamilyWatchdog.us

[7]

or www.CriminalJustice.ny.gov

[8]

to search for registered sex offenders in the areas you'll be trick-or-treating.
NEVER let children trick or treat alone
ONLY trick or treat at houses that your parents have approved
NEVER let children enter homes without a parent
Save candy until you get home so that a parent can inspect each piece for tampering or choking hazard.
Trick-or-Treating Times
Carrollton 6-7PM
Delevan x-x
Ellicottville 6-8PM
Franklinville 6-8PM
Gowanda 5:30-7:30
Little Valley 5-7PM
Machias x
New Albion 6-8PM
Olean 6-8PM
Randolph 6-7:30PM
Salamanca 6-8PM
South Dayton 5-8PM
Yorkshire x-x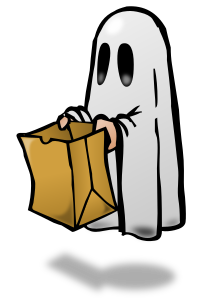 Let's make it a safer Halloween on Monday, October 31, 2016!